Caramel-Inspired Products: Melt your heart away!
 Elevate your snack game with our NEW caramel-inspired products!
We are excited to introduce some of our latest product launches, featuring delicious caramel-inspired snacks. From sweet to savory, caramel is a versatile ingredient and one of the US shopper's favorite flavors, that can elevate any treat.
The caramel-inspired snack market in the US continues to grow. According to a report by ResearchAndMarkets.com, the US caramel chocolate market alone is expected to reach $4.17 billion by 2025, with a compound annual growth rate (CAGR) of 5.5% from 2020 to 2025.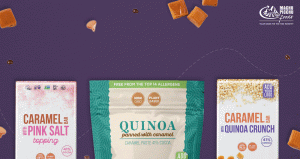 Our new caramel with pink salt bar has deodorized cocoa butter, natural colorant, and flavor, providing a perfect combination of sweet and salty flavors.
We have also introduced our new quinoa panned with caramel paste and our delicious caramel bar with quinoa crunch, for all the lovers out there seeking a healthy and superfood-filled snack that will satisfy any sweet tooth.
We look forward to working together to bring delicious candy-inspired snacks to market. If you have any ideas you'd like to explore, please leave us a message through our website for more information on how you can incorporate our products into your offerings.
---
LATEST NEWS
LATEST NEWS
& NEWS